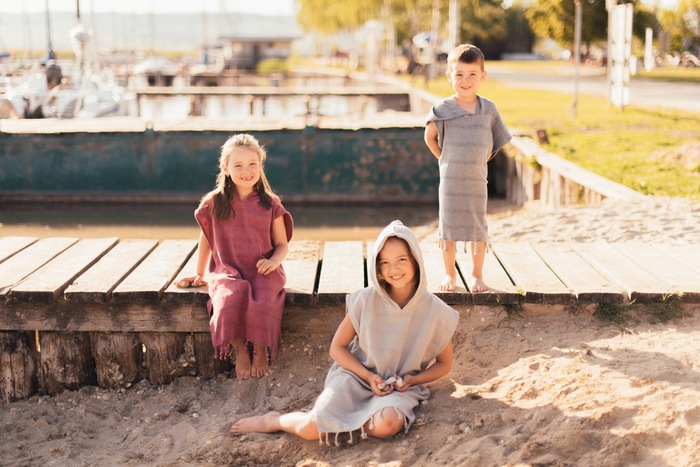 easy to wear
BEKVÅM is a young family business with focus on laid back and comfortable garments. We use only certified quality natural fabrics and materials. To ensure sustainibility the designs are sewn in co-joined sizes and can be worn for more seasons. Our products are easy to wear and match as they are designed minimalistically.
All ponchos, towels, blankets and other products are made from cotton and/or bamboo.
BEKVÅM means in Swedish comfortable, convenient, easy, easy-going. All these words define the idea that lies behind the creation of the brand bekvåm.
The first collection is inspired by our love for Sweden and its minimalism. This beautiful country caught us by the heart from the first moment we set foot on it. While living in Sweden you are surrounded by taste and beautiful but yet minimalistic designs, not only in the fashion or garments industry, but also in architecture, landscape and design. This is ourinspiration for the first summer collection 2018, which colours and patterns are thoroughly chosen. All our products are high quality peshtemal, produced in Turkey, where the peshtemal tradition lives on for centuries.
ATALIE is our softest line. It consists of 90 % bamboo and 10 % cotton. It is very soft and gentle. It was named Atalie, which is a Swedish female name and its meaning is: pure.
BORE line is composed of 100 % cotton. It comes in three earth tone colour variatons. This line defines the tough Swedish sea, its water and the waves. Because of that it was named Bore, which is a Swedish male name and means: he is like the north wind.
SUNNI like the name suggests is the most colourful of our lines. It consists of 100% cotton. It is colorful, bright and  fresh. Available in three colours: red, blue and yellow. Red as the summer sun set, blue as the water and yellow as the sun. That is why is was named it SUNNI, a Swedish female name, which means: she was the gift of the sun.